Punta Prima Car Rental
Autos Valls is a very popular car rental service on the island of Menorca. An ideal place to enjoy your holidays, this beach is located just 9 kilometers from Mahon (capital of Menorca) and 4 kilometers from Sant Lluís (a beautiful town founded by the French). Remember to have your Punta Prima Car Rental ready to enjoy this area.
This beach is ideal to enjoy your holidays as a couple, as a family or alone, where you can find all the necessary comforts from hotels, apartments, etc. to a variety of restaurants, supermarkets, etc.
Having a Punta Prima car rental is the most comfortable
You can also visit the nearby towns of Binibeca and Sant Lluís, which offer a wide variety of shops, restaurants and bars.
Its fine white sand with the turquoise sea will make you feel free and relaxed, in front of it you can enjoy the beautiful Mediterranean panorama of vivid blue tones in which the sea and the sky merge with the silhouette of the Isla del Aire in which a great lighthouse rises.
Find out more about Punta Prima Beach Hotels.
Insotel Punta Prima Menorca Hotel and Prestige Suites are situated in a privileged area that offers sea views and is located just 300 metres from the quiet beach Punta Prima in Menorca. you can find an Autos Valls Car and motorbike Rental office  Next to the Minigolf bar.
Hotel Sur Menorca, Suites & Waterpark is located in the Biniancolla cove and houses the Splash Sur Menorca water park, large gardens and terraces.
Valls Rent a car has a car and motorbike rental office at the hotel.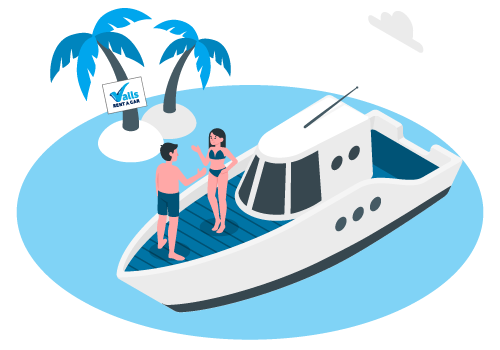 Address
Carrer Mestral nº 3
Punta Prima Beach
Sant Lluis 07713
Menorca
Phone
971 159 000 - Telf: 971 593 167 Ext 109
Business Hours
Mondays:

09:00 - 20:00

Tuesdays:

09:00 - 20:00

Wednesdays:

09:00 - 20:00

Thursdays:

09:00 - 20:00

Fridays:

09:00 - 20:00

Saturdays:

09:00 - 20:00

Sundays:

09:00 - 20:00
Lunch Time : Mon-Sun
13:00 - 16:00
From the beach of Punta Prima you can make various excursions along the "Camí de Cavalls" until you reach other coves and blue coasts, such as Alcaufar or Salgar. Paths that can be done as a family or alone, as they are easily accessible.
If you want to take a walk to observe the history of Menorca, near Punta Prima you can find two defense towers that were created to defend the coast and prevent possible invasions. One of them would be Son Ganxo Tower o Torre de Punta Prima located in the easternmost area of the island built in 1787, you can also find the Alcaufar Tower. The latter is a fortified tower built in 1786 having as its main function the defense of pirate incursions in the southeast of the island.
If what you want is to enjoy maritime leisure, they have several kayak rental offers, where you can go around the coast and access incredible places enjoying that calm, blue and beautiful sea.
If you decide to stay in this town, you can find our office to rent the ideal vehicle to surround our entire beautiful island.