Car Rental San Jaime Menorca
San Jaime Menorca, the urbanization of San Jaime Mediterraneo also called in the Menorquin language San Jaume, is located near the beach of Son Bou and belongs to the municipality of Alaior or as we Menorcans pronounce it Lo.
San Jaime is an ideal destination for a family holiday. This small coastal town offers a wide variety of activities and attractions for all tastes and ages.
It is one of the most luxurious urbanisations on the south coast of Menorca, with houses and villas of the highest standard and numerous hotels and flats with stunning views. Just a few metres away is the Son Bou urbanisation, which has the largest beach on Menorca with its white sand and crystal clear turquoise waters, as well as Son Bou.
The Club San Jaime which is located a few meters from the car hire San Jaime, has a modern infrastructure that provides customers with a variety of services, souvenir shops, tobacconist, cafes, restaurants, free parking.
The Car Rental San Jaime, Autos Valls, Rent a Car has car and motorbike rental offices open to the public, San Jaime also has a variety of restaurants, cafes, bakery, bars, sports facilities such as tennis courts, swimming pools and an Aguapark Club Sant Jaime.
If you are looking to hire a Car San Jaime Menorca is a convenient way to explore San Jaime and the surrounding area, at San Jaime car hire With Autos Valls you can enjoy the best conditions and prices, plus a wide variety of models and extras to suit your needs.
With Autos Valls Car Hire San Jaime is an excellent option. In San Jaime, one of the most beautiful and peaceful areas of the island. Discover the beaches, landscapes and culture of Menorca with the comfort and safety of Autos Valls. We offer a wide selection of vehicles to suit your transport needs. From compact cars to family vehicles and SUVs, we have everything you need to make your trip comfortable and safe.
– Son Bou beach: It is the longest beach in Menorca, with more than 3 kilometres of fine white sand. It is perfect for relaxing, sunbathing and practising water sports such as surfing, kayaking or snorkelling. It also has a lifeguard service, lifeguards and sun loungers and parasols for hire.
– The Camí de Cavalls: This is a historic path that runs along the entire coast of Menorca, passing through natural landscapes of great beauty. It can be done on foot, by bicycle or on horseback, and offers the opportunity to discover hidden coves, lighthouses, defence towers and other places of interest. The section from Son Bou to Santo Tomás is one of the most beautiful and accessible.
– The Water Park: This is an ideal place for family fun, especially if you are travelling with children. The park has slides, swimming pools, children's games and picnic areas. There is also a bar and a restaurant where you can eat or have a drink. The park is open from June to September and has a very affordable entrance fee.
– The Shopping Centre: If you feel like doing some shopping or enjoying the gastronomic and cultural offer of San Jaime Menorca, you can visit the shopping centre in the centre of the village. Here you will find fashion shops, souvenir shops, craft shops, supermarkets and other services, Hire Cars San Jaime.
– Club San Jaime: It is a tourist complex that offers accommodation, restaurants and leisure activities to its guests. The club has flats, bungalows and villas with all comforts and views of the sea or the garden. It also has a swimming pool, a gym, a spa, a mini-golf course and a children's playground. It also organises activities and shows for the whole family.
These are just some of the options you can visit in San Jaime Menorca, but there are many more. We invite you to discover this wonderful place and enjoy an unforgettable holiday.
In short, renting a Hire cars in San Jaime is a great way to explore the town and its surroundings. Whether you are interested in gastronomy, sightseeing, beaches or culture, San Jaime has a lot to offer. At San Jaime Car Rental, we're committed to providing you with the best possible service to make your experience as enjoyable as possible.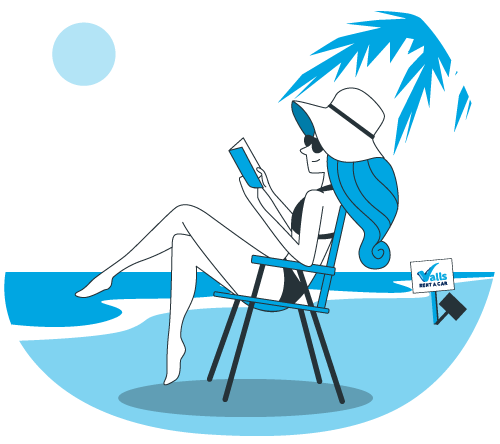 How to get to the Office from
Valentin Hotels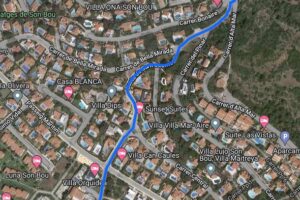 Jardin de Menorca Hotel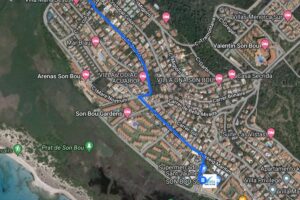 Son Bou to San Jaime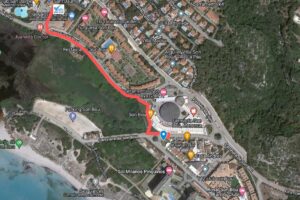 Car Rental San Jaime Menorca
Car Rental San Jaime Menorca
Car Rental San Jaime Menorca –  Car Hire San  Jaime
Address
Shopping center, San Jaime, loc nº 4
Next to: Apartments Club San Jaime, Valentin, Jardin de Menorca
Apart Jardin de Menorca - Alayor - Menorca
Urb Sant Jaume - Torre Soli Nou
Phone
674 680 751- Phone: 971 593 167 Ext 110
Business Hours
Mondays:

09:00 - 13:30

Tuesdays:

09:00 - 13:30

Wednesdays:

09:00 - 13:30

Thursdays:

09:00 - 13:00

Fridays:

09:00 - 13:00

Saturdays:

09:00 - 13:00

Sundays:

Closed
Lunch Time : Mon-Sun
13:00 - 23:59
Car Rental San Jaime Menorca
Car Rental San Jaime Menorca
Car Rental San Jaime Menorca
San Jaime is a tourist resort located on the south coast of Menorca, near Son Bou beach. It is named after King Jaime II of Mallorca, who founded the town of Alaior in 1304.
But before that it had already been habited by different peoples since prehistoric times. In its territory you can find numerous megalithic monuments, such as the settlement of Torre d'en Gaumés or the taula de Torrauba d'en Salort, which show the archaeological wealth of the island.
Car Rental San Jaime Menorca
Car Rental San Jaime Menorca
 Car Rental San Jaime Menorca